The fascination of sailing ships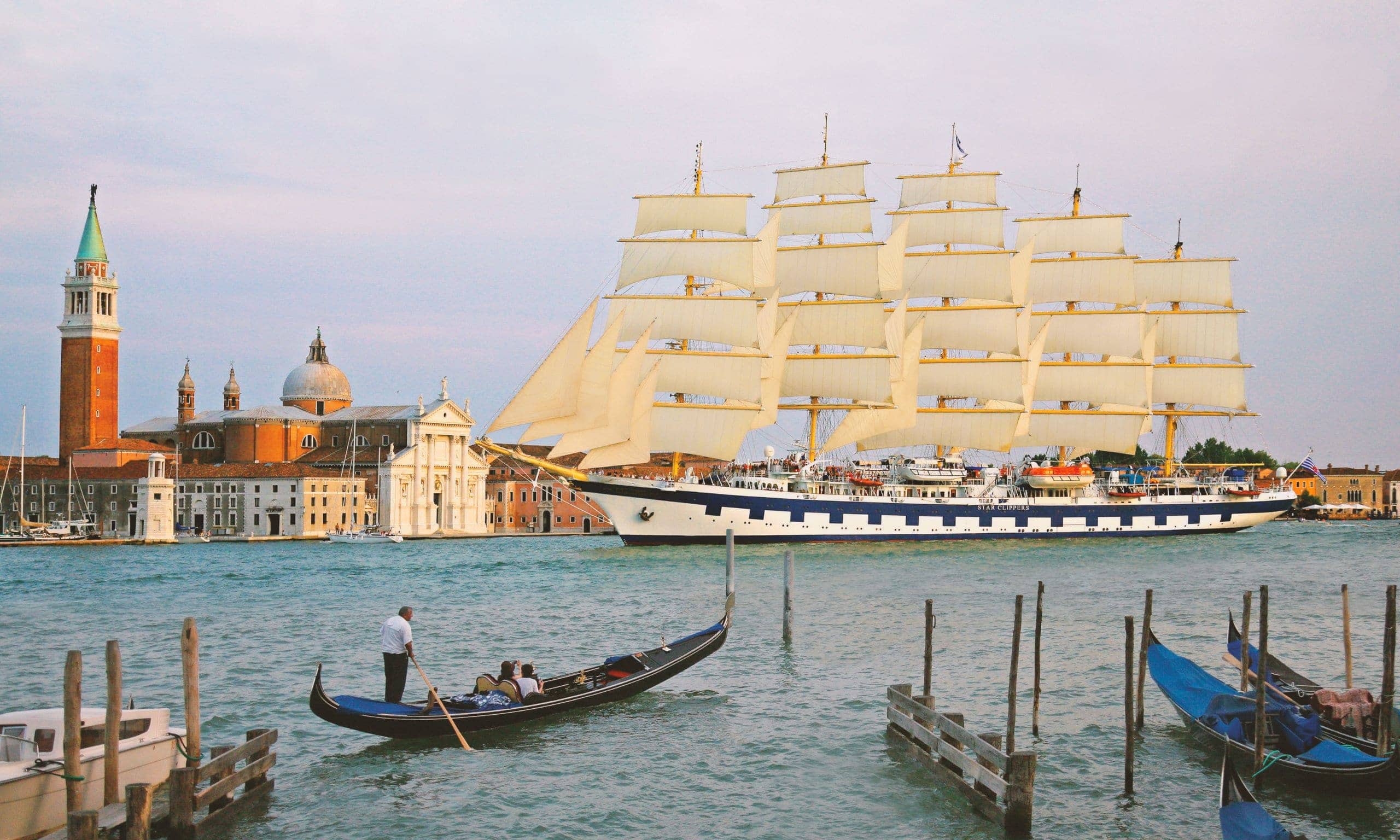 Charter the most beautiful sailing ships – with OceanEvent
Do you want your next company event or incentive to be different than ever before? Not a classic hotel for 30 or 300 guests, not a city trip – but a touch of adventure? Then close your eyes for a moment and imagine yourself crossing the gangway to a ship. Not a huge one. Not an ordinary cruise ship either. It's a sailing ship. An imposing one, however, because it has cabins for 230 passengers, lounges, restaurants and a bar, a pool deck and even a spa! Five mighty masts rise into the sky from its teak hull. They cover 5,000 (!) square meters of sail area. You are standing on the deck of this ship in a picturesque harbor, the rosé sparkles in the glass in your hand, the sky announces the approaching sunset. Soon it will glow in all the colors of pastel. Your guests wait in anticipation. Then the time has come. The captain's voice rings out over the ship. "Cast off!" Boatswains start to move, picking up the arm-thick ropes that were just holding the 130-metre-long sailing ship to the pier. As if in slow motion, it pushes off the quay wall, turns a little and glides along the harbor facilities, past people waving to you, through the huge harbor gates and out to sea.
This could be the prelude to your private or corporate event. And it's just the beginning. The beginning of an unforgettable journey. Because when the sails catch the wind, when they billow, tighten and align, the real adventure begins. Then your exclusively chartered sailing ship sets sail. Guided and protected by its figurehead, it sets course for the most beautiful places, beaches and bays – in the Mediterranean, Scandinavia, the Caribbean, the South Seas or wherever it takes you.
Large, magnificent ships, carried by the wind alone… Experiencing this is a sublime feeling of freedom and closeness to nature. A feeling that gives you goose bumps, and which we would like to share with you in this article. Chartering one of our carefully selected sailing ships means so much more than creating a beautiful event. It's a journey back in time when you choose a windjammer. It can be a deeply unifying incentive – or a completely unusual meeting and conference. Tall ships offer enormous flexibility in the use of their space. And they range from majestic to purist, from luxurious to rustic, from futuristic to nostalgic. In this article, we present six cruise ships from the OceanEvent portfolio.
Nostalgic tall ship
A ship straight out of the ancestor's book! The large, traditional windjammers were built in the second half of the 19th century for the worldwide transportation of goods. In order to maximize profits for their owners, they were designed for carrying capacity, handling and economy. Today, they are once again sailing the world's oceans as cruise ships and are just as popular for corporate events as they are for weddings, birthdays, and anniversaries due to their nostalgic flair. OceanEvent has the most impressive of these traditional ships in its program. For your full charter, we promise you and your guests unforgettable moments on board these nostalgic beauties. This windjammer, for example, is still sailed by hand. Beautiful to look at – and a 'free' team-building exercise if you want to take advantage of it! The elegant flair of the exterior is also reflected in the cabins. We are happy to recommend the restaurant with its period charm for gala evenings and special occasions.
Your ship at a glance:
69 outside cabins (including 22 junior suites and 3 owner's suites) – all suites with balcony
Restaurant with 180° panoramic view
Lido bar & bistro, (party) lounge with Steinway grand piano, library
Wellness area with Finnish sauna, steam bath, relaxation room
Sun deck with sun loungers
Marina platform with water sports equipment
4 Zodiac boats for landings on the beach
4-mast schooner barque
The barque was also widely used as an ocean-going cargo ship in the second half of the 19th century. An event on these teak and brass-lined ships offers the rare pleasure of immersing yourself in a bygone era. Today at star level, of course. Visually and with their fantastic sailing characteristics, 4-mast schooners are predestined for maritime incentives. Building blocks such as team building and pushing your own boundaries are available almost en passant. For example, when climbing into the 30 meter high shrouds. From up there, the next destination can be explored – this could be landing on a pristine beach, where OceanEvent surprises your group with a casual beach barbeque and reggae band…
Your ship at a glance:
79 cabins: 70 outside, eight luxury cabins with direct deck access, 1 large owner's cabin
Passengers: 158
Restaurant for 210 guests
4 masts with 3,365 m² sail area
Spacious teak decks with sun loungers
5-masted cruising sailer
This modern cruise sailing ship offers a conference and event location for 310 passengers on seven decks. Conference center included. During the day, the stepped superstructures at its stern are a general meeting place with sun loungers and all amenities. In the evening, OceanEvent transforms them into a multi-level dinner or party location under the stars. Thanks to its blend of traditional charm and modern comfort, the elegant sailing ship is popular with our customers for incentives, conferences and other meeting formats. The sleek design and spacious decks create an inviting atmosphere, offering space for talks, receptions, outdoor dining and much more. The ship is available in destinations all over the world.
Your ship at a glance:
168 superior cabins (18 m²), 5 deluxe cabins (24 m²), 10 suites (36 m²), 1 armateur suite (40 m²)
Restaurant with breathtaking sea views and BBQ facilities for 142 guests (indoors) & 136 (outdoors)
Gourmet restaurant with 268 seats
Restaurant for gala dinner or captain's dinner with 268 seats
560 m² show lounge with 300 seats, complete AV, sound and lighting system and stage

the meeting point for announcements, excursions and team-building activities
Conference & meeting room/li>
Location for awards ceremonies, entertainment or cocktail receptions (e.g. in bad weather)

Panorama bar at the stern of the ship

Location for cocktail receptions, coffee breaks (during meetings/conferences), breakout sessions
Chillout area for 1:1 conversations

Indoor bar with large dance floor, lounge area and covered deck
Majestic – the largest sailing ship in the world
You can charter the largest sailing ship in the world exclusively! At OceanEvent, of course. It is the tall ship described at the beginning that you imagined with your eyes closed. And with its 5,000 square meters of sail area, it is truly a spectacular all-in-one event location.
The only 5-masted full-rigged ship currently sailing the world's oceans, its sails and rigging were modeled after the famous Prussian (around 1902). The imposing exterior appearance is continued in the spacious interior, which is decorated in red velvet, teak and brass. The centerpiece is a three-story, sun-drenched atrium with an elegant restaurant. Here, chefs from all over the world serve menus and/or buffets of a rich culinary variety and high quality.
Your ship at a glance:
216 passengers
92 outside cabins, 14 deluxe cabins with private balcony and 2 luxurious owner's suites
1,760 square meters of deck space with on-board pool
Atrium restaurant with capacity for all guests
Indoor bar & cozy lounge area
Outdoor bar & BBQ area and outdoor dance floor
Water sports platform at the stern for swimming fun on the high seas
Spa and fitness area with a view of the underwater world
42 sails and more than 5,000 m² of sail area
Luxurious
With its elegant lines and white sails, this yacht-sized cruise ship exudes a very sophisticated charm. It was designed for discerning travelers and high-class events. There is one crew member for every guest – so the maximum of 32 passengers are fully pampered. Intimacy and a touch of luxury travel with you when you charter the yacht exclusively with OceanEvent during your worldwide travel routes.
Exploring hidden bays, untouched regions and remote islands – that's what this ship was built for. Our Nautical Department has added itineraries that are not included in the shipping company's program. 'Once-in-a-lifetime' is not just a slogan, it becomes reality on your voyage planned and supervised by OceanEvent. The shore and social programs arranged by us and the special combination of traditional sailing aesthetics and the shipping company's claim to sustainability also contribute to this. Enjoy an authentic sailing experience at the highest sustainable level!
Your ship at a glance:
16 cabins & suites in warm, elegant colors that promote peace, relaxation and contemplation
Panorama restaurant with 34 seats (inside & outside), fine, local gourmet cuisine with exquisite organic products, champagne from Veuve Clicquot, wines from French wine producers and from the regions visited
Sun deck with outdoor bar
Lounge & bar for 35 guests (inside) and 24 guests in the outdoor area
Spa & massages, fitness room incl. coach, yoga classes on the sun deck
Marina platform with glass-bottom kayaks, stand-up paddling, snorkeling, diving and fishing equipment
Futuristic
The Orient Express has defined the art of travel since 1883. The legendary luxury trains that once ran between Paris and Constantinople will be followed in 2026 by its eagerly awaited counterpart at sea: the Orient Express Silenseas cruise ship! It will then be the largest sailing ship in the world and, with its spectacular exterior and interior, will be entirely in the style of the famous Orient Express. According to the owners' plans, the ship will celebrate the art of travel and encourage its guests to relax and dream. The participants of your event will certainly achieve this while enjoying the essence of a unique charter cruise in 54 elegant suites, salons, bars and lounges.
The technology behind this master yacht belongs to a next generation of cruise ships that focus on sustainability. The Orient Express Silenseas sails with the "Solid Sails" propulsion concept: three rigid sails, each with a surface area of 1,500 square meters, are hoisted on three tiltable masts more than 100 meters high. In optimum weather conditions, they can provide up to 100% of the propulsion. The hybrid propulsion formula combines wind energy with an LNG-powered engine and the use of green hydrogen is planned as soon as the technology is approved for ocean-going passenger ships. This makes the Orient Express one of the lowest-emission sailing ships in the world and sets the standard for a new, environmentally friendly era of cruising.
This unique cruise ship will celebrate the art of traveling à la Orient Express: an essence of luxury, comfort and reverie. Available for exclusive charter with OceanEvent from 2026!
Your ship at a glance:
54 suites with an average size of 70 m²
Monumental presidential suite (1,415 m² plus 530 m² private terrace)
2 pools including lap pool
2 restaurants & Speak-Easy-Bar
Amphitheater with cabaret & top-class shows
Private recording studio
Exceptional spa & meditation experiences
Charter sailing ships from the experts for maritime events
For event planners looking for the extraordinary – whether for corporate events, incentives or other exclusive celebrations – the tall ships described (and many more in our portfolio) offer incomparable possibilities. At OceanEvent, your specialist for maritime events, you can expect customized, exclusive event concepts that you won't find anywhere else in this form. Chartering sailing ships – others can do that too. Turning your event into something that your guests will dream about and rave about for years to come – that's what the professionals at OceanEvent can do. Thanks to cruise-experienced senior event managers, nautical experts and managing director, Christian Mühleck, who himself sailed on yachts as a captain.
We have been chartering out cruise ships – and tall ships – in the most beautiful areas of the world for 20 years. We know the right ship for you in the destination and size you require. We know the officers and crew on board and enjoy their trust. This is an important building block for the success of highly complex, sophisticated event formats such as those we offer.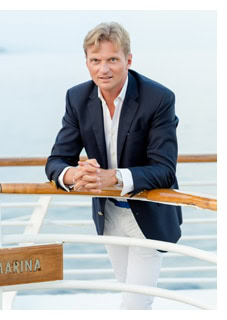 Be inspired and talk to Christian Mühleck – former yacht captain and visionary for events, incentives, congresses & unique private celebrations at sea!
Share Post