OceanEvent tests MeinSchiff 4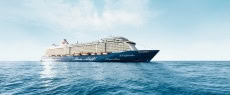 Even before the brand new MeinSchiff 4 was christened, the team of OceanEvent seized the opportunity for a test cruise on board. Conclusion: very good conditions for full charter with MICE character.
The theater (capacity: up to 1,000) equipped with state-of-the-art light and sound technology, an adjustable double ring rotary stage and eight movable LED walls seemed just right for holding meetings and conventions. The innovative "sound tower" (for a maximum of 200 persons) is a novelty on board. The great concert halls of Europe can be simulated here in terms of acoustics. More conference rooms with cutting-edge conference technology make MeinSchiff 4 an ideal conference location.
The pool deck can be brilliantly used for open-air events. The largest open space is offered in the area around the 25 meter long (!)  outdoor pool.
A generous stage area at the front is suitable for serious and humorous speeches. The roofed inside pool closes up the space in the rear.
A large open space with stands and LED wall is available for sporty team-building activities. The restaurant concept seats 1,200 people, who can share an identical menu at one time.
Our conclusion:
With this new ship, the ship-owning company has succeeded in revitalizing the cruise ship market. True innovations and many details greatly distinguish the ship from other vessels of this size currently on the market.
In our opinion, MeinSchiff 4 is perfect for conventions with up to 1,200 people. The maximum capacity of the ship is 2,500 passengers.
Share Post