Orient Express launches largest sailing ship in the world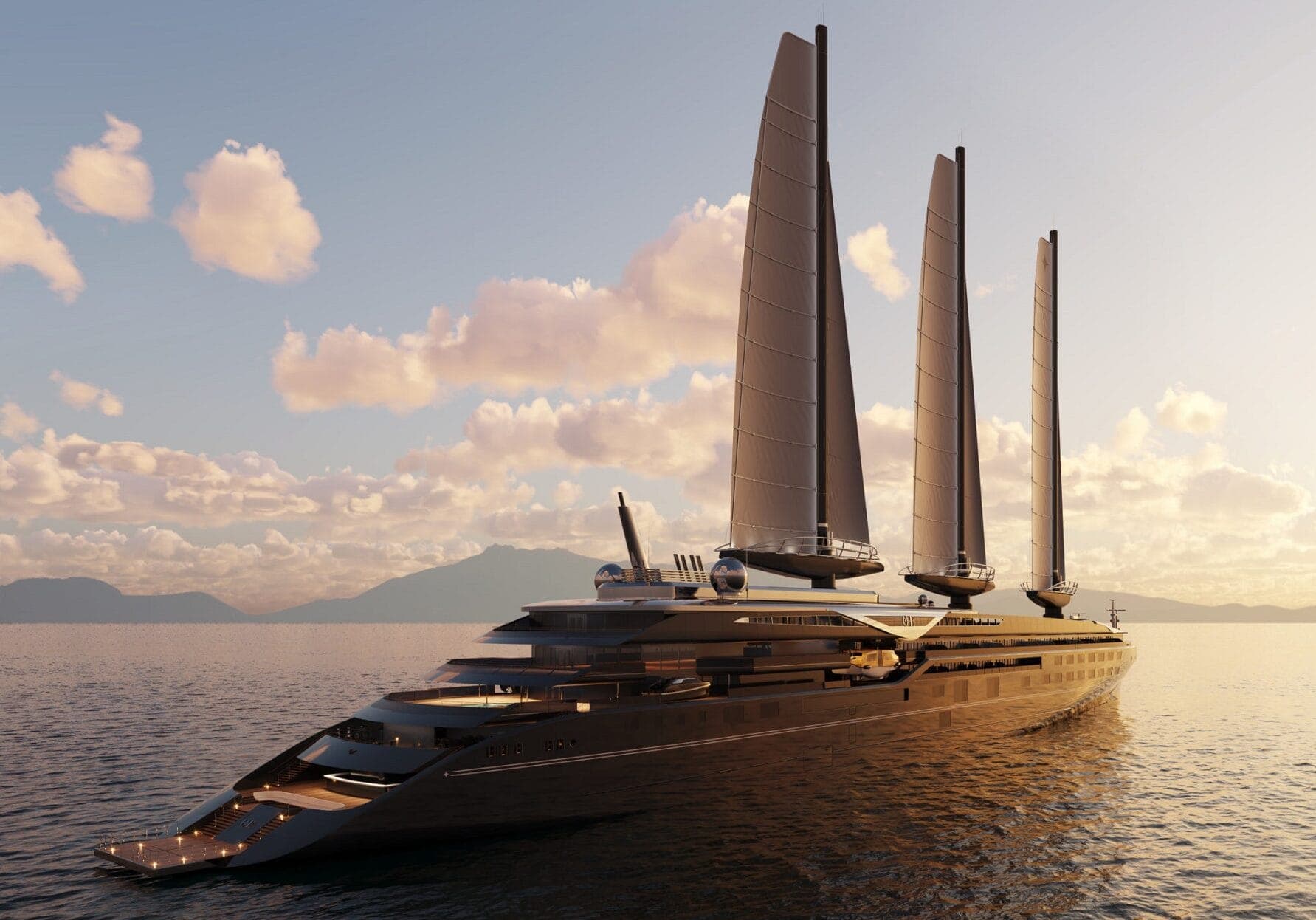 A legend reinvents itself: Orient Express Silenseas
Since 1883, the Orient Express has defined the art of travel. The legendary luxury trains that once ran between Paris and Constantinople will be followed in 2026 by their eagerly awaited counterpart at sea: the Orient Express Silenseas cruise liner! It will be the largest sailing ship in the world, and with its spectacular exterior and interior, will be completely in the style of the famous Orient Express. According to the Aigner's plans, the ship will celebrate the art of travel and inspire its guests to idleness and dreaming. Most certainly, the participants of your event will succeed in doing so, while enjoying the essence of a unique charter cruise in 54 noble suites, in the elegant salons, bars and lounges.
Orient Express Silenseas sails sustainably
Visually, the ship is reminiscent of the Age of Discovery and mythical cruises. But her exterior gives it away: the technology behind the master yacht is anything but dusty. She belongs to a next generation of cruise ships that focus on sustainability through hyper-technology. The Orient Express Silenseas sails with the revolutionary technological concept of "SolidSails": three rigid sails, each covering an area of 1,500 square meters, are hoisted on three tiltable masts more than 100 meters high. In optimal weather conditions, they can provide up to 100% propulsion. The hybrid propulsion formula combines wind energy with a state-of-the-art LNG-fueled engine, and the use of green hydrogen is planned once the technology is approved for ocean-going passenger vessels. This makes Orient Express one of the lowest-emission sailing ships in the world and sets the standard for a new, environmentally friendly era of cruising.
What charter customers can expect on board
As a specialist in maritime events, OceanEvent's program includes all ships in the 4- and 5-star categories on the seven seas. Among them are the latest environmentally friendly yachts and cruise ships. We also offer the Orient Express Silenseas for full charter from 2026. With a length of 220 meters for 108 passengers, she currently offers one of the most generous space ratios. On average, the 54 suites measure 70 square meters. Monumental the presidential suite with its 1,415 square meters and 530-square-meter private terrace. On board, a spa area with high-end treatments and meditation offerings, two swimming pools (including a sports pool), the spacious marina platform, gourmet cuisine and a speak-easy bar.
As a tribute to the high arts and the diversity of culture, the Orient Express Silenseas maintains an amphitheater. Including lighting and sound equipment, it is available to our charter clients for meetings, lectures, and any kind of show event. Just like the professional recording studio, where unique travel memories can be created…
Whatever you have in mind on board this special cruise liner: OceanEvent will know how to stage it for you!
Your full charter of the Orient Express Silenseas
On board this unique cruise ship you can celebrate the art of traveling à la Orient Express. Ask us for charter dates starting in 2026! To do so, book a no-obligation consultation with former yacht captain and OceanEvent CEO, Christian Muehleck. Together we will find out how your private celebration, a corporate event, incentive, meeting, or conference can be arranged on board this (or another) exclusively chartered ship!
Climate-friendly cruise ships at OceanEvent
We are aware of our sustainable responsibility and carry almost all cruise ships and yachts in our portfolio that already implement the theme 'cruise and climate protection'. They now exist in every segment and ship size:
Share Post