The most environmentally friendly cruise ship in the world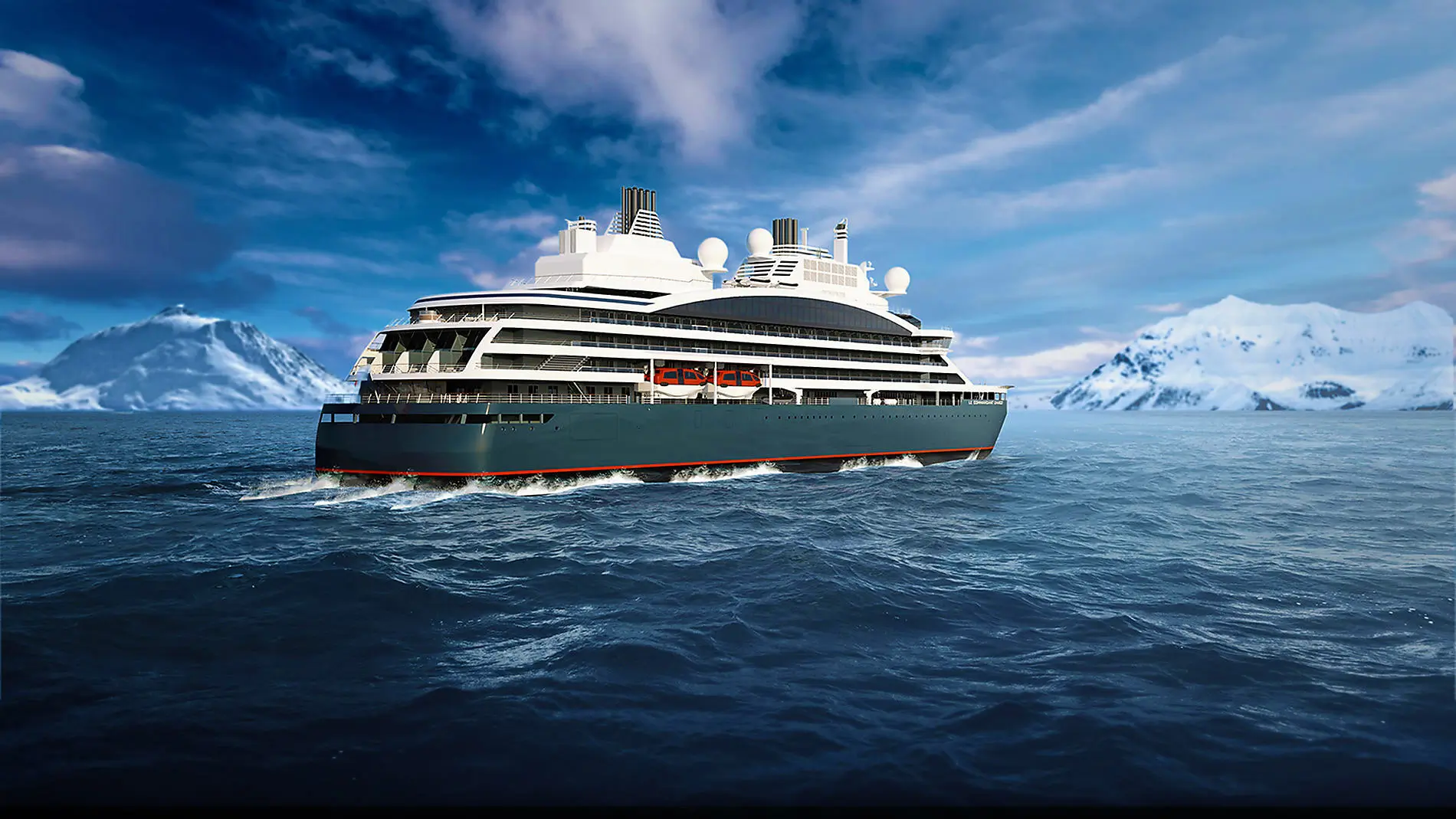 Introducing the newest addition to our French partners fleet, the Polar Explorer Ship with whom we have been implementing maritime events and incentives in all regions of the world for many years now. They are committed to protecting the sensitive ecosystems of the polar regions she will travel to and they are driving forward sustainable innovations such as hybrid electric propulsion. Powered by liquified natural gas, she is the epitome of responsible and sustainable sailing, making her one of the most advanced polar vessels at sea today.
This polar explorer invites up to 240 passengers in 120 cabins and suites to explore the most remote corners of the Arctic and Antarctic in a responsible manner. Exclusively chartered with OceanEvent, your guests will be pampered and cared for by 215 crew members.
In the impressive fields of this white paradise, whale and penguin observations and excursions into the eternal ice await your participants – be it with air cushion boats, traditional kayaks, dog sleds or simple snowshoes.
What a luxury to soak in the warmth of the sauna and spa area on board and to be pampered with French and international cuisine in the two restaurants!
Glaciologists, climatologists and/or geology scientists accompany your travels through the ridged ice. In talks and lectures, your guests will learn first-hand knowledge about the evolution of the climate in the polar regions, understand the formation and retreat of icebergs and unravel some of the secrets of the fascinating white continent.
All this in an absolute feel-good atmosphere. The elegant furnishings of the cabins, suites, and public areas in warming colors are full of unexpected details. Outdoors, these include fire bowls, a lagoon heated with recovery energy and heated benches.
Inside, guests can expect tea-time with French delicacies in the afternoon, works of art and paintings by world-renowned artists and cozy lounges where panoramic windows showcase the fascinating ice landscape outside.
This truly impressive and ecologically state-of-the-art explorer cruise ship is now available with OceanEvent for exclusive charter for your next corporate event. Ask us without obligation – we look forward to preparing an extraordinary event at sea for you!
Share Post