Exclusive private cruise: Rome – Bonifacio – Capri – Sicily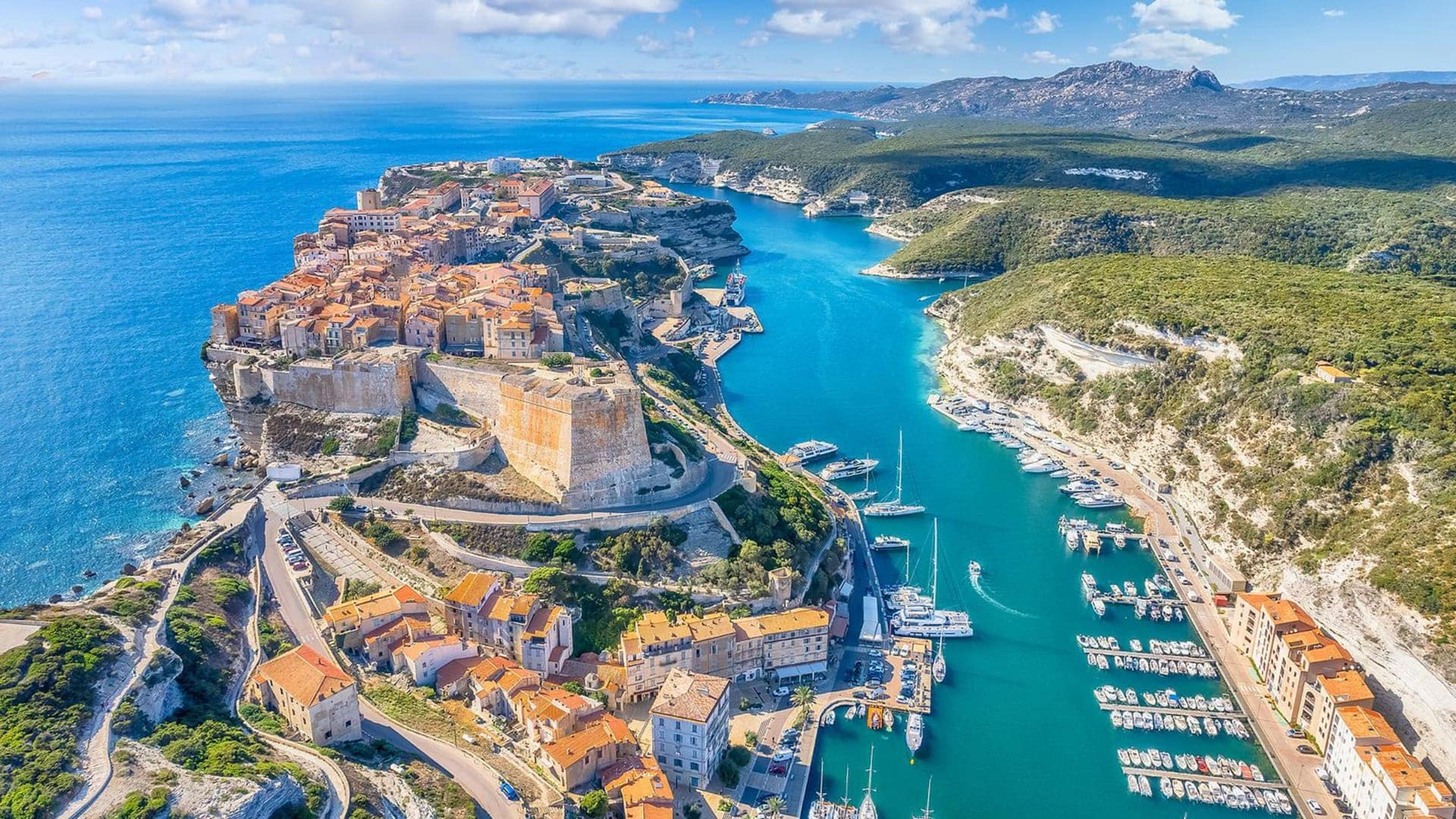 The special charm of a private cruise
Imagine gliding through turquoise waters on your own yacht, lying at the pier in enchanting harbors, anchoring off the world's most beautiful beaches. On board: 98 passengers. But not just anyone! No one foreign. Instead, you have invited your family, friends, close business partners to join you on a private cruise lasting several days.
In May 2024 OceanEvent offers you this opportunity aboard a ship that looks like a yacht even with its 48 cabins. We have reserved a charter slot for the most beautiful travel time. The routing is set: it goes from Civitavecchia (near Rome) to Catania. For the Eternal City, the stops along the way and your arrival in Sicily, our charter cruise designer Vanessa Wagner shares with you some highlights.
Our exclusive charter offer
4 – 7 May 2024 | Rome – Bonifacio – Capri – Sicily
Your Yacht
'Your' ship is a real beauty. She measures 110 meters, making it one of the so-called boutique ships. On six passenger decks, she inspires guests with her futuristic design and noble style, a SkyBar on the top deck and elegant feel-good suites. Casual elegance is also reflected in the public areas: the restaurant, stylish terraces, bars, cafés, lounges and spacious decks. Here, OceanEvent implements cocktail receptions, glamorous dinners and parties under the stars for you.
During the day, the pool deck and the marina platform will entice you and your guests to dive into a sea that seems to belong only to you. Water toys accompany the bathing fun and also the service of the very friendly crew will inspire you.
Routing und Land Program
We will make your Charter Cruise aboard this extraordinary yacht an unforgettable experience for your guests! Departing from Rome Fiumicino International Airport, Vanessa recommends the following program:
Day 1 – Rome
The Eternal City, as Rome is called due to its history stretching back to ancient times, cannot be explored in an afternoon. That's why your city tour, organized by OceanEvent, is dedicated to Italy's diverse culinary scene – while touching on the historical sights. Fun, enjoyment and exciting anecdotes in a spectacular setting make for an upbeat start to your cruise.
Program selection:
Entertaining Dolce Vita culinary tour through Rome's 2000-year history
Embarkation on board your yacht in Civitavecchia
Sail Away Party on the TopDeck – a first goosebumps moment of your private cruise
Day 2 – Bonifacio
Bonifacio combines so many things. Lively history, wild nature, dream beaches and azure sea are just a few of them. You and your guests will experience a bit of everything as soon as your yacht enters the natural harbor of Bonifacio. High up on the limestone cliffs the old town is enthroned and opens spectacular views down to the sea, enchants with winding alleys and medieval architecture.
Program selection:
Guided walking expedition along the iconic cliffs of Bonifacio
Cooking class of Corsican dishes using traditional techniques in a quaint country estate
Picturesquely located golf course with breathtaking sea views
Day 3 – Capri
Look forward to the next highlight of your cruise: the island of Capri. This is where grandiose natural beauty and Italian splendor meet! Alfred Krupp, Maxim Gorki, Rilke, Oscar Wilde, Onassis, Maria Callas, Brigitte Bardot, George Clooney… Since the 50s, high society has been drawn to Capri. And now you and your guests too!
Marvel at the Blue Grotto, whose ethereal play of light has made it world famous, stroll through the enchanting alleys and gardens of Villa San Michele, or browse the many upscale boutiques – a real treat!
A cocktail reception on board, which we will prepare for you in the meantime, once again captures the essence of this glamorous island in the glowing sunset.
Program selection:
At the Marina Grande, immerse yourself in the glamour of the Piazzetta
A ride in the famous vintage cabs will reveal all the beauty of the island
It leads to Capri's most famous beach club. Here, Hollywood stars, political and business luminaries, and renowned artists have been having a rendezvous since the 1970s
Your ship is meanwhile moving and lies in sight of the club (OceanEvent obtains a special permit from the authorities for this)
From the beach club we tender you and your guests directly to your yacht – VIP feeling guaranteed
Back on board a cocktail reception awaits you for the sundowner, an exquisite dinner and who knows… maybe you dance under southern Italy's starry sky through the night…
Meanwhile, the captain and his officers set course for another Hidden Place on Italy's west coast
Day 4 – Catania
The last leg of this unique private cruise will take you to the charming city of Catania on the east coast of Sicily.
Program selection:
A trip to Mount Etna offers an impressive opportunity to experience one of the world's most active volcanoes up close. Enjoy the yields of its fertile soils
A tour of the historic harbor town with a visit to the fish market concludes your fantastic charter cruise
Is this what you hope to experience?
Then contact us! The fantastic yacht is available for exclusive full charter through OceanEvent. At the mentioned date and with the presented routing: May 4 – 7, 2024 | Rome – Catania.
Or at any other time of your choice, in any other destination!
Worldwide, our navigators will work out unique routings for you. Our experienced event managers plan the supporting program and entertainment according to your wishes and take over the entire organization from logistics to handling on board and ashore.
Share Post