Star Clippers builds the largest sailing ship in the world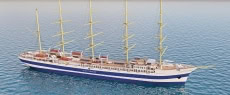 OceanEvent has secured a first charter event in May 2018. The five-mast full-rigged ship is to set sail in the second half of 2017, replacing the "Royal Clipper" as the world's biggest sail ship.
With this new construction, the Monegasque ship-owning company Star Clippers is enlarging its fleet. With a length of more than 162 meters, the ship is almost 30 meters longer than the current record holder "Royal Clipper". 150 cabins, 34 suites with balconies and four owner's suites for a total of 300 passengers are being planned. Facilities include three swimming pools, a diving bar as well as a spa area with massage service.
The new flagship is based on the "France II," the largest windjammer of its time, which sailed the seas from 1911 to 1922. It is rigged as a skiff: with fore-and-aft sail on the rear mast.
OceanEvent has secured a first charter event in May 2018 on board the new clipper ship – for a major maritime project, in which OceanEvent puts together for one charter the three cruise sail ships available in the Mediterranean (Star Flyer, Royal Clipper and the new large sail ship). The routing is expected to be along the Cote d'Azur. The client wants to lease various beach clubs for private parties.
Share post: