Our contribution to achieving the climate targets
The specialist for cruise events OceanEvent takes responsibility for climate change and is known as a "Climate Neutral Company" since 2018.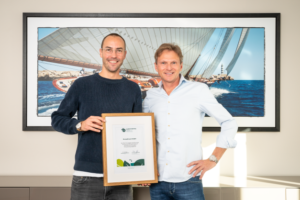 Stopping the advancing climate change is the greatest challenge of our time. Therefore, in 2015 at the Paris Climate Conference it was determined that the average temperature increase of the earth must be kept below 1.5 degrees. Cruise ships have a reputation for causing high CO2 emissions. They are the core business of Ocean Event GmbH, who provide cruise ships for meetings, events, celebrations and incentives worldwide. In cooperation with Fokus Zukunft GmbH & Co.KG, we have been putting our operational business, our daily actions and our travel activities to the test since 2018. We minimise the emissions we cause where possible. In order to make our charter cruises climate neutral, we offer our customers the opportunity to purchase climate protection certificates.
Christian Muehleck has long been concerned with his company's environmental balance sheet. "It has to in times when climate change is progressing in such a way," says the former yacht captain and founder of OceanEvent GmbH. We charter cruise ships, as you know. It's an unusual business. And a very successful one. Large and medium-sized corporations call on our expertise when it comes to holding congresses on board a cruise ship or inviting employees and business partners to a cruise incentive. OceanEvent also organizes the sea voyages of wealthy private individuals – the occasion is usually weddings, anniversaries or charity events.
There is a suitable ship for all these circumstances. From small ships for 30-100 guests to resort ships with space for up to 6000 passengers, Christian Mühleck and his team of navigators and event planners know each ship personally and promote the world's most sustainable ships for exclusive charters. And they have been doing so for more than 20 years.
Cruising and environmental protection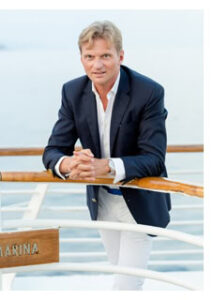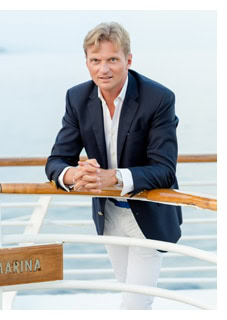 OceanEvent founder, Christian Muehleck
"Early on, I followed the efforts of shipping companies to build more environmentally friendly ships." In the 2010s, little was happening.  But for some time now, the cruise market has been moving. "AIDA and MSC were the first encouraging examples," Christian Mühleck knows to report. In the meantime, ships of newer generations generally no longer run on heavy fuel oil – the worst of all fossil fuels and the biggest CO2 emitter – but on the more environmentally friendly liquefied natural gas or hybrid propulsion systems.
Today, cruise companies are building ships that are advancing with new environmental technologies, such as:
Wind propulsion systems
Multi-fuel engines
Solar and wind energy (including solid fuel sails)
Advanced hull and propulsion
Shore power
Battery storage to save electricity
Efficiency improvement systems
Advanced wastewater treatment systems
Fuel cell technology
Onboard almost all cruise ships "no plastic" applies. Waste avoidance, heat recovery, biological sewage treatment plants or onboard water treatment have become standard. The same applies to LED lighting, self-optimizing air-conditioning technology and programs to prevent food waste.
Of the more than 90,000 ships that cruise the world's oceans, only about 450 are cruise ships. These shipping companies are the innovation drivers for low-emission propulsion systems. After all, protecting the oceans is in their own best interest. Just as it is in ours. That's why it's right that since 2021 cruise ships are no longer allowed to use environmentally harmful heavy fuel oil (container ships, tankers, freighters are!), that hybrid systems are being developed here, and that solar technology is increasingly being used.
Expedition ships, discovery yachts and boutique ships in particular set a good example. Designed for remote regions such as the Arctic or the Amazon, they rely on particularly environmentally friendly technology, including zero emissions. Dynamic positioning systems prevent the ships from having to anchor in sensitive ecosystems such as coral areas.
These are just a few examples. In our logbook and in various press articles, you can read the latest news about what is happening in the cruise industry in terms of environmental protection:
> Cruise events in the focus of the press
Climate neutral company – OceanEvent takes the lead
But despite all the technical progress: emissions from cruise ships will remain a burden on the environment until the shipping companies have met their goal of complete decarbonization in 2050. For Christian Mühleck, this is a reason to establish climate-neutral offsets today.
Fokus Zukunft GmbH & CoKG. is the partner OceanEvent has chosen to determine the CO2 impact of its own company and the charters to be carried out. The sustainability experts determine nitrogen and carbon dioxide emissions and advise on climate protection certificates that offset these emissions. In addition to the environmental aspect, all the projects chosen by Fokus Zukunft also aim to bring about progress for the local population in terms of hunger, thirst, poverty, education, health. This is a welcome initiative in which companies help to initiate positive economic, social and ecological development in developing countries.
58 tons of CO2 annually, the consultants calculated in 2019, were generated by charter broker OceanEvent's ongoing operational activities, including business travel. These were made climate-neutral retroactively for 2022 and prospectively until 2024 through climate protection certificates. On September 29, 2022, the most recent emissions balance sheet was drawn up. With the pleasing result of 'only' 24 tons of CO2, which were generated in the operative business (including travel activities) – and this with an increased number of employees! They are made climate neutral by certificates that support a wind farm project in Patagonia, Argentina. 189,429 tons of CO2 EQ can thus be neutralized per year, which pays towards the important UN climate protection goals 7, 8 and 13: Affordable & clean energy. Decent work. Climate protection measures.
Details of the funded wind farm project can be viewed HERE.
This leaves the emissions caused by the charter trips. Here, too, OceanEvent is pursuing the climate strategy recommended by Fokus Zukunft. "By purchasing climate protection certificates."
"Climate-neutral company" – OceanEvent GmbH has carried this seal since 2018. Managing Director Christian Mühleck and his team are working to further reduce their company's emissions. One of the ways they achieve this is by carefully selecting the ships they offer. Well over 50 percent of the ships and yachts OceanEvent has in its portfolio for maritime events, incentives, conferences and private celebrations are among the most environmentally friendly cruise ships in the world. The cruise industry's commitment to become carbon-free – and therefore CO2-neutral – by 2050 means this number will rise exponentially in the coming years. The necessary innovations are already being driven forward with billions of euros of investment on the part of the shipping companies.
Information about the Climate-neutral company project and the purchase of climate protection certificates can be read HERE, as well as view the OceanEvent certificate and projects they support HERE