Cruise Events in times of Corona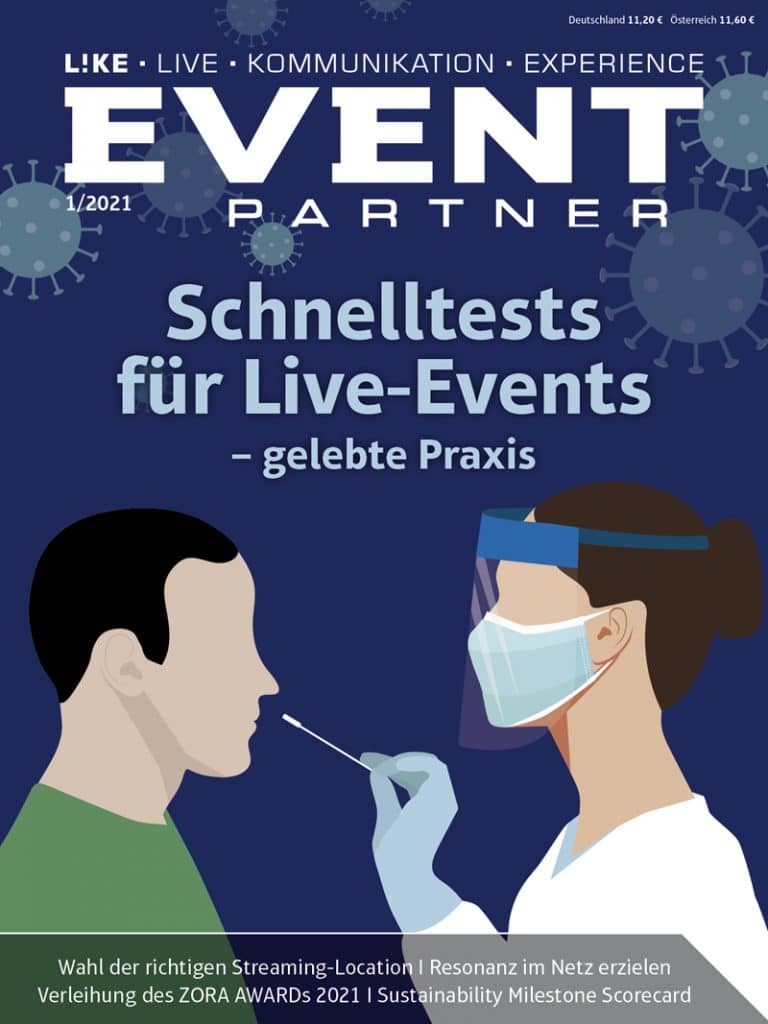 Captain's Talk
EVENT PARTNER 1-2021
Corona has hit the events and travel industry hard. This does not pass without its mark on the cruise market. Christian Muehleck, former yacht captain and managing director of the charter broker company, OceanEvent, explains what this means for conferences and incentives at sea.
In Corona times, the provision concepts of the shipping companies are exemplary
This winter, a good 90% of all cruise ships are moored at the piers of this world. This has never happened before! The industry, like so many others, is languishing under the restrictions with which COVID-19 holds us in its thrall. As a charter broker, we are in the fortunate position of only having two cancellations for 2020. We were able to postpone the charter cruises of most of our customers to the current and coming year.
It's a different story in the FIT (Free Independent Travellers) market, where the German travel market is said to have seen a 67% drop in sales in 2019/20, according to Travel Data + Analytics. The market research institute sees similar figures for FIT cruises. There are major differences between European and American shipping companies. We work with both in equal measure, as they account for the bulk of the cruise ships chartered worldwide. European shipping companies "live" strongly from European guests, whereas the American are mainly local.
This should prove to be an advantage for local providers in the Corona year. After the first lockdown from March to mid-May 2020, their ships operated in Europe during the summer season – with reduced passenger numbers and limited programmes, but at least on the other hand, American shipping companies were unable to operate their vessels here or in the USA. This is likely to change for European destinations only when air traffic to and from America is resumed and restrictions on tourism-motivated travel are lifted.
New diversity thanks to consolidation
In my view, this involuntary stalemate has given the Cruise ship market a stimulus for consolidation. Many older ships were decommissioned during the Corona year or lavishly modernized. New cruise ships are now conquering the market. In addition to large resort liner ships, eighteen Expedition and Explorer ships will be launched in 2021 and 2022. This is particularly true for the MICE industry. Pleasing because with capacities from 100 to 600 passengers, they are ideal for smaller conferences, incentives, or innovative product launches. These ships – elegant, top equipped and optically more yacht than cruise ship – meet the latest ecological standards. This is also a plus point now that "social responsibility" is becoming increasingly important. The diversity that the cruise market now has to offer also explains the request for maritime events that we continually receive despite Corona. For the coming year, charter bookings for both private and corporate events are running at almost normal levels. This allows for a positive outlook – for our charter business and, I hope, for the entire travel industry.
Conclusion
If something like normalcy returns to our lives with the success of COVID-19 vaccinations, the desire to travel will increase to unprecedented levels. This is what current surveys and futurologists such as Matthias Horx predict. Companies can take advantage of this trend and inspire and motivate employees, partners, and customers more than ever before with an event at sea. Planning for this is now beginning …
Subscribe to the EVENT PARTNER Magazine > HERE