Which ship for which event? Part 2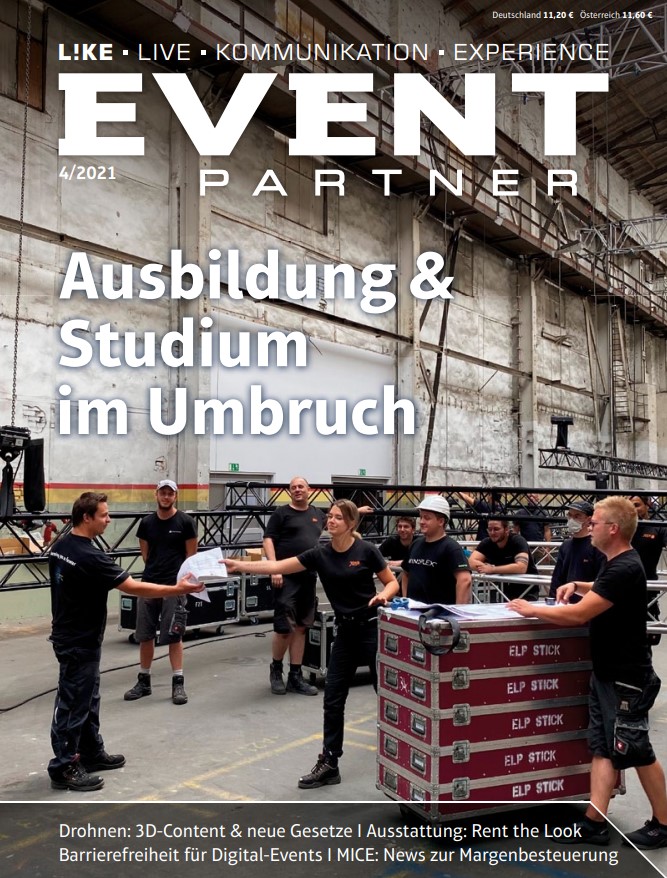 Captain's Talk
EVENT PARTNER 4-2021
What do cruiseliners from 300 to 2,700 cabins have to offer for the MICE business? Which seas are they sailing on? What do events on board such giants look like? What should event planners pay attention to when more than 4,000 guests set sail?
ELEGANT MEETINGS: UP TO 300 CABINS
Let's start with the comparatively small ones. These are cruise ships with around 300 cabins for events with up to 600 attendees. This category is dominated by 5-star offers, and accommodation of all guests in suites is not uncommon. The budget that these all-suite liners define their clientele: They are the setting for conferences of senior management, for incentives with top partners: within a company or to reward the high achiever employees. The generously sized, elegant ships sail to destinations all around the world. A plus, because a cruise in Northern Europe, overseas or the exotic regions of Asia and South America is particularly exciting for these participants. A variety of restaurants are available onboard. The culinary repertoire can range from a journey "around the world" to exquisite star cuisine. In this context, the sun and pool decks are worth mentioning. Because they can be transformed into any desired type of event location for the entire number of travelers – for example, into a festive barbecue that culminates a brilliant corporate party under the stars. If the planned event is intended as a conference, the show lounges truly offer everything you need for it. They are usually used for the entertainment program on board. During an exclusive company charter, they are available as conference rooms with conference equipment. The elegant elegance of this type of ship is an eye catcher in every port!
CELEBRATE UNDER THE STARS: UP TO 600 CABINS
The next largest category of the international Cruise Guide is Midsize Ships. These cruise ships hold up to 1,200 guests in double cabins. I recommend this category to medium-sized companies that want to invite their employees. Gratitude to employees or celebrating a company anniversary could hardly be staged more effectively! Because the ships are chic and offer a wide range of entertainment, wellness, and sporting activities. Ball courts on board a cruise ship are simply fascinating. So are the high-tech fitness studios and often more than 1,000 m2 spas with massages, beauty treatments, wellness, yoga and much more. Equally impressive are the conference facilities. The stylish show lounges offer modifiable stage sets, comfortable lounge chairs and of course the latest technology. The Main Lounge capacity is usually designed for single occupancy of the cabins, which is usual for conferences and business-focused events. Their use is included in the charter price, as are all other rooms for separate meetings and breakouts. There is also a lot going on in this segment in terms of ecology: Today, Midsize Ships are equipped with the latest technology. Of course, this also includes the drive systems. Modern fuels are used instead of the environmentally damaging heavy oils, which are still used by most container ships. In addition, exhaust scrubbers, so-called scrubbers, reduce sulphur oxide and other harmful emissions by up to 95%. With this knowledge, maritime events aboard these elegant cruise liners leave unforgettable positive impressions on corporate events. All the more gratifying, that in the coming years more of these midsize ships will be launched!
AUTARKIC CRUISING: FROM 1,000 TO 2,700 CABINS
Cruise ships of these capacities are called resort ships. Just like a resort, everything you need for events, incentives and conferences is on board. The entertainment they put on phenomenal. Ice stadiums, hockey fields, tennis courts, indoor basketball courts, shopping malls and casinos to name just a few areas. Whole decks are dedicated to the spa areas with every conceivable form of treatment and their chill-out relaxation zones. This would allow participants to theoretically – and if desired – spend the duration of the event in their own "social bubble." This is a trend that the pandemic is intensifying, and which makes chartering cruise ships for corporate events even more interesting. As with any exclusive charter, the routing is also customized. This ensures uniqueness. You can't book a trip like this a second time. In any case, uniqueness can be implemented anywhere on board. By branding the existing large screens and laser systems with the motto of the event or by the particularly creative staging of a conference in the convertible lounges. As with all suites and midsize ships, state-of-the-art stage technology and all lounges, bar areas and atriums are available to the charter guests as desired. Inside, as well as the many different restaurants, which are mostly spectacular in their architecture. Some of which can accommodate up to 1,000 guests over several levels. This feature is appealing for gala evenings. And there are other options: splitting into different sessions, using all restaurants on board at the same time, or moving to a fabulous location on shore. This is where a special feature of the large commercial vessels come into play. They are not only on the road all year round. Often the shipping companies own their own islands in tropical regions. Equipped with a complete infrastructure for fun and any kind of event, you can have huge beach parties on your own private beach – for 1,000, 2,000 or even 5,000 guests and more! The example of an Italian shipping company shows that this is not just fun-driven but can also serve sustainability. It acquired a formerly industrially exploited island in the Caribbean and created an island with an intact ecosystem. Today, flora and fauna find paradise conditions here. Even the coral reef that surrounds the island has been revived thanks to the commitment of the shipping company. In such a place you can also celebrate! 
SHIPPING COMPANIES CALL AT PRIVATE ISLANDS
But how do so many people get off board for a party? How long does the disembarkation take and what then . . .? Is there a need for land transfers for all travelers? The very large commercial vessels always call at a fixed port. They do not anchor near the coast and tend to their guests, as may well be the case with the smaller vessels. When such an ocean giant lies on the pier and opens its exits, the layman is amazed at how such a large ship empties itself! It is a daily procedure, perfectly coordinated by the officers on board. Once on shore, no inconvenient transfers are necessary. Because the small private islands of the shipping companies are designed for the ships of their fleets to dock directly at the beautiful Caribbean beaches. The party can start!
Sign up for the EVENT PARTNER Magazine >HERE