First hybrid expedition ship in the world for charter
A revolutionary cruise ship recently took to the water as the world's first hybrid expedition vessel. It will sail the most spectacular coastal regions on our planet – from the expanses of the Arctic Northwest Passage to the Galapagos Islands and the penguin colonies in Antarctica. This results in an unconditional obligation to treat the sensitive local nature with respect. The shipping company committed itself years ago and voluntarily to the UN Sustainable Development Goals. In particular, those related to responsible consumption, responsible production, climate and the underwater environment. The footprint left by expeditions aboard their vessels is as small as possible and of a temporary nature. For example, this explorer's advanced hybrid engine provides environmentally friendly propulsion. Advanced battery systems and other innovative solutions reduce fuel consumption and emissions.
With its entire fleet, the shipping company is taking a leadership role in the fight against the exploitation and destruction of nature and local communities by mass tourism. It is doing everything it can to create new sustainability benchmarks for the entire industry, demanding strict rules and regulations and imposing them on itself. In doing so, it is demonstrating that destinations can be explored responsibly by cruise ship. It is therefore not surprising that a first hybrid expedition ship in the world comes from this very group of companies.
Your guests become ambassadors for your destination
The focus of the expedition cruises OceanEvent offers aboard this explorer is the real, authentic experience. Observing the unique wilderness is a fascinating part of the charter cruise. During landings, your guests will be immersed in pristine nature and learn all about life in these inhospitable, remote regions. Wildlife viewing, however, is done from a distance so as not to interfere with the animals' natural behavior and to respect their habitat. Your participants will explore the cultures and ecosystems visited in an intensive way, gaining deep insight, inspiration and appreciation for our planet. Expedition teams of researchers, scientists, experienced explorers and lecturers from around the world accompany the kayak tours and landings in the Eternal Ice. This turns your event or incentive trip into an expedition experience with a truly lasting impact; your guests become ambassadors for your chosen destination.
Onboard and Ashore
As impressive as the expeditions on land are, the interior on board is just as cozy: the breathtaking landscape is reflected in an elaborate and comfortable interior design. Scandinavian natural materials such as granite, wood and wool have been combined to create relaxed and stylish cabins and public areas. All cabins are outside cabins, half with private balconies. Some suites offer a private outdoor hot tub with spectacular views.
At OceanEvent, we care about protecting and creating sustainable benefits for the areas we bring our guests to. We see it as a guarantee to secure the existence of nature and local people. This is another reason why we appreciate that this expedition ship cultivates the purchase of local food and the involvement of local suppliers (e.g. when organizing shore excursions). This ensures the livelihood and well-being of small coastal communities, supports indigenous communities, and preserves culture and traditions.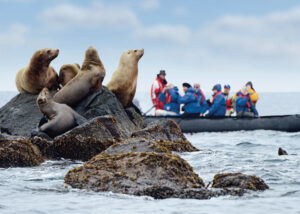 Do you want your next event to be sustainable?
In addition to the featured Explorer, which is considered the world's first hybrid expedition ship and is suitable for group voyages with up to 600 participants, the shipping company has a fleet of ship sizes ranging from 90 to 800 passengers. They all offer expedition voyages to the most remote regions of our world. Always under the premise of preserving the most sensitive local ecosystems.
If you are looking for an extraordinary destination for your next incentive, meeting or corporate event, contact us! OceanEvent knows all sustainable cruise ships and yachts worldwide. For our customers we charter them in full charter and make your cruise CO2-neutral on request (Learn HERE more). On board and ashore, we will prepare for you an unforgettable, sustainable corporate event in every form!
Environmentally friendly cruise ship request
Read even more about sustainability in cruising in OceanEvent's log entries:
> Environmentally friendly cruise ship for 3200 passengers
> Environmentally friendly cruise ship for 720 passengers
> Environmentally friendly cruise ship for 240 passengers
> Cruising and climate protection
> The most environmentally friendly cruise ship in the world
Share Post